Your Complete Storm Restoration Resource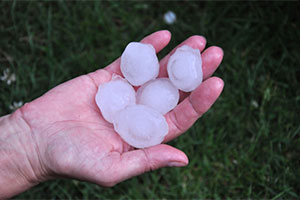 Storms are responsible for quite a bit of damaged property in the United States every year. In fact, storm damage alone accounts for over $24 billion in property damage annually. That is close to $100 million in hurricane damage alone, hundreds of millions in hail alone, and over $2 billion a year just in winter storms. These numbers don't include lightning, tornados, severe thunderstorms, coastal storms, tropical storms, flash flooding, or ordinary rain. While not every storm is devastating, Mother Nature does have the power to completely destroy your property in a matter of minutes. When a severe storm damages your home, you need total restoration services—and fast. At Disaster Response Group, we provide all of the components necessary to take you from storm victim to storm victor. We operate a vast, nationwide network of skilled and experienced construction, insurance, and real estate experts ready to help you every step of the way. That is why we are the top choice for high-quality storm restoration services.
Renovations
After the most damaging of storms, your building's flooring, drywall, and many other interior components may be in serious need of flood repair. As part of our professional network, we offer specialists who can help restore your interior back to pre-storm conditions. We'll get the inside of your home or office clean, comfortable, and livable again.
Roofing
The most common exterior component to get completely destroyed in a bad storm is the roof; it serves a valuable function in protecting your building, but it takes a tremendous amount of abuse in the process. Our teams of roofing experts can replace or repair any and all roofing types. Whether you had a metal roof on your home or a flat roof on your business, Disaster Response Group will ensure you have a roof over your head once again.
Siding
While siding is built to last and is incredibly durable, highvelocity winds and extreme temperatures can sometimes cause severe damage anyway. Disaster Response Group's siding specialists have the tools and experience necessary to replace your siding. We work with the finest manufacturers, so we have access to the highest quality siding materials and can fully restore your home or office's exterior—including windows and doors—promptly and effectively. All of your exterior components are protected and covered with Disaster Response Group.
Tree Removal
A tree is useful when standing upright—but when it falls on your home during a big storm, a tree becomes a wrecking ball to both property and safety. However durable a home or commercial building may be, it is unlikely to escape the impact of a tree unharmed. Beyond crucial repairs to your home, the invading tree itself must be removed, which takes special equipment and proper experts. We at Disaster Response Group will also handle this important during the restoration process. We have a full network of master craftsmen in every discipline, so you can rest assured that trees or any other intruding forces of nature will be removed—and fast.
Our Storm Restoration Experts Provide the Following Services
Renovations
Roofing
Siding
Windows
Doors
Tree Removal