Your Storm Damage Repair Professionals in Chicago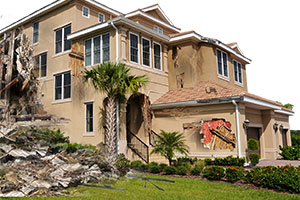 Storm damage is a terribly inconvenient, but unfortunately reality for many property owners. At some point you will likely suffer from some kind of storm damage, whether it be shingle blowoffs, roof leaks, basement flooding or a number of other storm related issues. When this happens, depending on the severity, you may have to contact a contractor in a rush, leaving you with precious little time to make an important decision. When faced with this dilemma, don't make a rash choice. Instead, entrust your repair to the trained storm damage repair experts at Disaster Response Group. We have a vast network of contractors who specialize in storm damage repairs. Our service technicians are prompt and effective and can repair just about any storm damage you experience, which is why we are the preferred choice in Chicago for storm damage repair professionals.
At Disaster Response Group, we work hard to offer the widest variety of storm damage repair services available to Chicago homes and businesses. We offer roof repair, siding repair and replacement, attic repair, garage repair and even tree removal. Whether a branch fell through your roof or the bottom floor of your shop is flooded, Disaster Response Group can help and quickly. We'll return your property to safety and comfort in a timely and affordable manner.
Storm Damage Restoration Specialists in Chicago You Can Count On
Some storms inChicago do much more damage than a simple repair can fix. If you fall victim to property devastation from a storm, it is understandable you might not know what to do next. Shock and emotional trauma set in as pertinent decisions are supposed to be made. Let the storm damage restoration professionals at Disaster Response Group relieve you of the stress of handling your restoration alone. We have a large team of experts that each specialize in a different area of the process and we all walk you through it step by step. You won't have to face any of it alone and we make it as simple as possible.
We start with an inspection and appraisal that will assess the damage and give you and your insurance company an accurate estimate of the cost. We even provide you with a certified engineer's report. After inspections, we offer claims management services. This is where we hold your hand through the complicated and intimidating insurance claims process. We'll guide you through all the paperwork and how to handle insurance professionals to make the procedure as smooth as can be. Then we get our team of construction experts to start restoring your property. Our roofers, remodelers and builders will completely restore your home or office to comfort and security. Don't take on the storm damage restoration process alone; Disaster Response Group is in your corner the whole way through.
Chicago's Top Mitigation Services
A crucially important aspect of the storm damage restoration process is the prevention of further damage. We handle this with our mitigation services by providing you with emergency board up service, temporary repairs and water extraction. First, our board up service and temporary repairs are designed to protect your property from further weather damage and vandalism. We quickly respond to your call and board up all broken windows and doors and cover other exposed areas. If there is water intrusion, we begin water extraction to prevent mold, termites and other deteriorating effects. When you suffer storm damage, our mitigation services will minimize your total restoration costs.
Recent Articles
Why An Insurance Claims Restoration Company Is The Best Option After A Disaster

When you purchase a home, you will also be purchasing a homeowner's hazard insurance policy. This insurance is designed to protect you and the mortgage company from financial loss when there's storm damage, flooding, fire, hail damage, or another disaster. Every policy is different, so be sure you carefully examine this document to see what […]

Read More


Importance of Conducting Water Removal ASAP

When your home suffers major water damage, the first thing that you should do is contact a professionally licensed water damage restoration contractor. The longer you wait, the more damage that will occur to your home or business. Although the storm, flooding, or plumbing leak may be over, the water in your property still presents […]

Read More