Top Quality Storm Damage Repairs for Omaha Home & Business Owners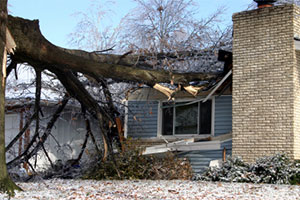 The buildings we occupy are made to protect our property and ourselves from the elements. The building's exterior, however, takes a lot of abuse in the process. When severe weather causes damages, it is important to address the issue immediately so further damage does not occur. For the highest quality workmanship in Omaha storm damage repairs, call Disaster Response Group. We have a network of well trained and skilled experts in every discipline of construction. Our service members will promptly and effectively repair your storm damaged structures. We offer affordable prices and fast service, which is why we are the preferred choice in Omaha for quality storm damage repairs.
Whether you suffer roofing shingle blowoffs, leaks, flooding or damage to your garage, we can help. Our team of construction professionals possesses the experience and tools necessary to handle just about any storm related repair you may have. When you call Disaster Response Group for storm damage repairs, our team will respond quickly and fix your damaged property accurately. Don't put off addressing your storm damage; call Disaster Response Group today.
Complete Storm Damage Restorations in Omaha
Snow storms, flash floods and many other severe weather situations can cause a lot of damage to property in Omaha. If your home or business is devastated by a storm, don't worry; Disaster Response Group is here to help. Our network of service providers is comprised of specialists in every area necessary to completely restore your building and your life back to normal. On the construction side we offer roofing replacement and repair, siding, interior renovations and even tree removal. We also provide thorough inspections and appraisals as the first step in addressing storm damage. We even offer an engineer's report performed by a licensed engineer.
Beyond inspections and renovations, Disaster Response Group offers insurance claims management to assist in the claims process. We understand that dealing with the insurance company can be intimidating and confusing. Our team of professionals has the experience and know-how to walk you through every step of the process. We take you from storm devastation to total restoration and return you back to the comfort of a fully functional home or office.
Omaha's Best Mitigation Services
One important aspect of storm damage restoration is preventing further damage. Our mitigation services address the issues involved with storm damage that could lead to more costly repairs in the future. First, we offer emergency board-up and temporary repair services. When you call Disaster Response Group, we can have a team to your location promptly to board up broken windows or doors and built temporary shelter for other exposed areas of your building. This stops rain, vandals and other elements from causing more damage. Once the area is secure, the next step is to remove any elements from the inside that can continuously cause damage. The most common of these is water. Water, if left unchecked, can lead to mold, termites and other deterioration. As part of our mitigation services, we offer moisture extraction. We'll clean and dry up the area so water damage does not occur. We also offer the removal of construction materials if moisture cannot be removed. By eliminating the source of water damage, further damage cannot ensue. If your building suffers storm damage, you need to act fast, and the fastest mitigation service in Omaha is Disaster Response Group.
See What Customers in Omaha, NE are Saying About Us
Disaster Response Group is Rated: 5 / 5
based on this 1 happy customer review.
---
"Thank you so much. After the last storm, we needed a professional response team and the obvious choice was Disaster Response Group. You guys came through big time for us. Thanks"
---
Recent Articles
Why An Insurance Claims Restoration Company Is The Best Option After A Disaster

When you purchase a home, you will also be purchasing a homeowner's hazard insurance policy. This insurance is designed to protect you and the mortgage company from financial loss when there's storm damage, flooding, fire, hail damage, or another disaster. Every policy is different, so be sure you carefully examine this document to see what […]

Read More


Importance of Conducting Water Removal ASAP

When your home suffers major water damage, the first thing that you should do is contact a professionally licensed water damage restoration contractor. The longer you wait, the more damage that will occur to your home or business. Although the storm, flooding, or plumbing leak may be over, the water in your property still presents […]

Read More