Council Bluffs' Number One Storm Restoration Service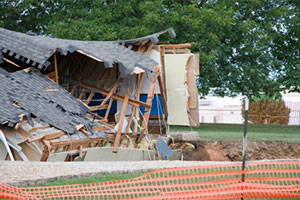 Storm damage, while often covered by comprehensive insurance policies, is still quite inconvenient. Unfortunately, if you live on the planet Earth, it is also unavoidable at some point. When your building suffers storm damage, you have to not only suffer from the damage itself (unsightly blemishes on your property, leaks and other further damaging issues) but also the inconvenience of having to find someone to fix it. That is where Disaster Response Group is here to help. We have a network of construction professionals that are masters in every discipline. From roofing to siding, flooring and more; if you fall victim to storm damage, we have the resources to get it fixed. That is why we are the number one choice in Council Bluffs for storm damage repair services.
Whether you suffer from roofing shingle blowoffs, leaks, flooding or other common storm damage problems, our teams have the tools and expertise necessary to solve them. We have a nationwide network of professionals that are extensively trained and provide prompt and accurate storm damage repairs. Our contractors specialize in storm damage, so they know exactly what to look for and just how to fix it. When you fall victim to storm damage, call Disaster Response Group for the fastest and most reliable storm damage repairs in Council Bluffs.
Storm Damage Restorations Council Bluffs Can Count On
Mother Nature, while offering beauty and wonder, can also dole out the most devastating damage of any other force on Earth. If your home or business is severely damaged in a storm, the road to restoration can seem daunting. At Disaster Response Group we walk you through the process, every step of the way. Our total storm damage restoration services are designed to handle every aspect of restoration you'll encounter. We start with a thorough inspection of your damaged structures, appraisal of the actual cost of the damages and even an engineer's report. This detailed data ensures your insurance company has everything they need to proceed with your claim. Next, we offer claims management to help guide you through the mountain of paperwork your insurance company will require. You have enough on your mind and dealing with insurance companies can be stressful. We are here to relieve you of that stress. After that we get to work quickly, assigning members of our vast network of contractors to complete your restoration. We have renovation and remodeling experts, roofers, siding and building exterior experts, tree removal experts and more all available to get your building back in working order. When you call Disaster Response Group to help you with storm damage restorations, we take you from property devastation to comfort and safety as fast and affordably as possible.
Mitigation Services in Council Bluffs
Immediately after severe storm damage, it is necessary to prevent further damage from exposed areas or water. With mitigation services from Disaster Response Group, we reduce the amount of loss you will incur by responding quickly to your damaged property. We offer emergency board up services to board up your windows, doors and other exposed openings. This keeps further weather from doing more damage and also protects your property from vandalism and looting. After enclosing your property and securing exposed areas, we also offer water extraction. Water is a unique element in that it can cause further damage if left unchecked. Water will bring about mold, termites and many other deteriorating elements. At Disaster Response Group, we'll clean and dry the area, removing all excess moisture. We also dispose of construction materials that cannot be dried, thereby eliminating the source of water damage. When you call us for storm damage restoration, our mitigation services will minimize your costs tremendously.
Recent Articles
Why An Insurance Claims Restoration Company Is The Best Option After A Disaster

When you purchase a home, you will also be purchasing a homeowner's hazard insurance policy. This insurance is designed to protect you and the mortgage company from financial loss when there's storm damage, flooding, fire, hail damage, or another disaster. Every policy is different, so be sure you carefully examine this document to see what […]

Read More


Importance of Conducting Water Removal ASAP

When your home suffers major water damage, the first thing that you should do is contact a professionally licensed water damage restoration contractor. The longer you wait, the more damage that will occur to your home or business. Although the storm, flooding, or plumbing leak may be over, the water in your property still presents […]

Read More