Wichita's Top Storm Damage Repair Professionals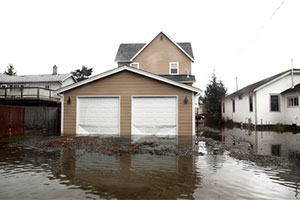 Storm damage, while often covered by comprehensive insurance policies, is still quite inconvenient. Unfortunately, if you live on the planet Earth, it is also unavoidable at some point. When your building suffers storm damage, you have to not only suffer from the damage itself (unsightly blemishes on your property, leaks and other further damaging issues) but also the inconvenience of having to find someone to fix it. That is where Disaster Response Group is here to help. We have a network of construction professionals that are masters in every discipline. From roofing to siding, flooring and more; if you fall victim to storm damage, we have the resources to get it fixed. That is why we are the number one choice in Wichita for Storm Restoration services.
Whether you suffer from roofing shingle blowoffs, leaks, flooding or other common storm damage problems, our teams have the tools and expertise necessary to solve them. We have a nationwide network of professionals that are extensively trained and provide prompt and accurate storm damage repairs. Our contractors specialize in storm damage, so they know exactly what to look for and just how to fix it. When you fall victim to storm damage, call Disaster Response Group for the fastest and most reliable storm damage repairs in Wichita.
Total Storm Damage Restorations in Wichita
Most storms are mild, however some are devastating. When a storm leaves your property with severe damage, you may need some help. Disaster Response Group is here to relieve the burden of handling a storm damage restoration project from your shoulders. We have assembled a network of professionals nationwide that assist you in every step through the restoration process. It starts with an inspection, appraisal and then engineer's report. We fully assess the condition of your building structures and the cost of damage so you are completely prepared to approach your insurance company. Then we provide claims management. The claims process can be a daunting and complicated task, but with Disaster Response Group holding your hand, you will get through it with ease. After the claims process, our construction experts move into renovation and restoration. With the help of roofers, remodeling experts and other construction specialists, we return your property to pre-storm conditions. Our ultimate goal is to get you back to normal life as quickly as possible. If you fall victim to a storm, let Disaster Response Group guide you from storm devastation to comfort and normalcy.
Mitigation Services Protect Wichita
One important aspect of storm damage restoration is preventing further damage. Our mitigation services address the issues involved with storm damage that could lead to more costly repairs in the future. First, we offer emergency board-up and temporary repair services. When you call Disaster Response Group, we can have a team to your location promptly to board up broken windows or doors and built temporary shelter for other exposed areas of your building. This stops rain, vandals and other elements from causing more damage. Once the area is secure, the next step is to remove any elements from the inside that can continuously cause damage. The most common of these is water. Water, if left unchecked, can lead to mold, termites and other deterioration. As part of our mitigation services, we offer moisture extraction. We'll clean and dry up the area so water damage does not occur. We also offer the removal of construction materials if moisture cannot be removed. By eliminating the source of water damage, further damage cannot ensue. If your building suffers storm damage, you need to act fast, and the fastest mitigation service in Wichita is Disaster Response Group.
Recent Articles
Why An Insurance Claims Restoration Company Is The Best Option After A Disaster

When you purchase a home, you will also be purchasing a homeowner's hazard insurance policy. This insurance is designed to protect you and the mortgage company from financial loss when there's storm damage, flooding, fire, hail damage, or another disaster. Every policy is different, so be sure you carefully examine this document to see what […]

Read More


Importance of Conducting Water Removal ASAP

When your home suffers major water damage, the first thing that you should do is contact a professionally licensed water damage restoration contractor. The longer you wait, the more damage that will occur to your home or business. Although the storm, flooding, or plumbing leak may be over, the water in your property still presents […]

Read More