The Best Storm Damage Repair Services in Kansas City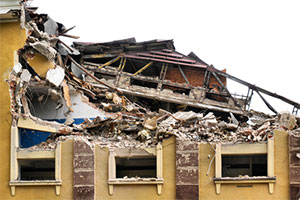 It is an unfortunate reality that most property owners have to deal with that storms will inevitably cause costly damages. While your home or commercial building is designed to protect that which is inside from the elements, exterior aspects are subject to much abuse. Shingle blowoffs, leaks, flooding and siding damage are all common storm damage problems. If you suffer from any of these, or any storm damage at all, you should call the storm damage repair experts from Disaster Response Group. We provide Kansas City home and business owners with access to a network of highly skilled construction professionals that specialize in storm damage repairs. These professionals know what problems to look for and how to solve them quickly. They provide unparalleled workmanship and prompt service, which is why we are the top choice in Kansas City for storm damage repair professionals.
At Disaster Response Group we strive to offer the most comprehensive storm damage repair services available in Kansas City. We offer roof repair, interior repair, attic repair and even tree removal. Whatever damage your property has sustained from a storm, we can fix it. We'll have your property in working order in no time, so you can return to life as usual.
Kansas City's Top Storm Damage Restoration
Storms are never convenient forces to deal with, however sometimes natural disasters bring much more destruction than simple repairs can solve. If your property has been devastated by a storm, you need Disaster Response Group. Suffering severe property damage can be mentally and emotionally draining, and often what to do next is so perplexing it can cause anxiety. Complete storm restoration services from Disaster Response Group helps alleviate that stress. We walk you through every step of the restoration process, making it as simple as possible. We start with a thorough inspection of your property to assess the damage. The inspection is conducted by a professional that is fully aware of what information your insurance company will require. For further data to help the process, we also provide you with an appraisal, so an exact cost can be estimated. We also offer an engineer's report, detailing the structural capacity of your building at present. After inspections are complete, we then provide you with claims management to hold your hand through the claims process. Dealing with insurance companies can be confusing and stressful. You won't have to sift through any mountain of paperwork alone with Disaster Response Group.
The last step in the process is getting contractors to work on your restoration. Through our network of roofers, remodelers and builders, we can restore your property back to pre-storm conditions. Our number one goal at Disaster Response Group is to get you from property devastation to comfort and safety as quickly as possible.
Mitigation Services for All of Kansas City
One of the most crucial aspects of storm damage restoration is the prevention of further damage. With mitigation services from Disaster Response Group, we'll reduce your total costs, limiting any out of pocket expenses you might incur. We offer emergency board-up services where we send our team out to your property immediately to have exposed windows and doorways boarded up to prevent further weather damage and vandalism. When your property is secure, then we provide water extraction to prevent mold, termites and other deteriorating damage caused by still water. We thoroughly clean and dry excessively moist areas and remove construction materials that are too damaged, thereby removing the source of water damage. If you suffer storm damage, reduce your expenses with mitigation services from Disaster Response Group.
Recent Articles
Why An Insurance Claims Restoration Company Is The Best Option After A Disaster

When you purchase a home, you will also be purchasing a homeowner's hazard insurance policy. This insurance is designed to protect you and the mortgage company from financial loss when there's storm damage, flooding, fire, hail damage, or another disaster. Every policy is different, so be sure you carefully examine this document to see what […]

Read More


Importance of Conducting Water Removal ASAP

When your home suffers major water damage, the first thing that you should do is contact a professionally licensed water damage restoration contractor. The longer you wait, the more damage that will occur to your home or business. Although the storm, flooding, or plumbing leak may be over, the water in your property still presents […]

Read More