Attic Repairs Contractor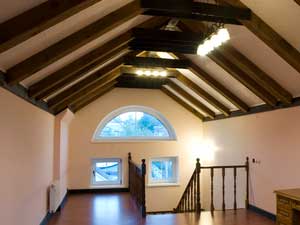 Attic repairs are a common service because, as seasons change, we experience a variety of weather patterns that may range from humid summers to freezing winters. These changing conditions can put a lot of stress on roof structures, leading to attic damage as well.
Holes in your attic space are never a good thing. Whether they're caused by animals or exposed roofing nails, water can infiltrate your attic space without your knowing. Do you have holes leading from the exterior of your home into your attic space? It's not uncommon for raccoons or squirrels to move in by chewing through your home's exterior. Your attic is a warm and inviting place for these critters, so it's no wonder they insist on entry.
Unfortunately, they not only cause damage to your home that will cost you on energy consumption, but they can bring fleas or illnesses that affect your family's health. Stowaways in your attic are also sure to leave plenty of feces, urine, and nesting materials that lead to damage.
If your attic space isn't properly ventilated, moisture will develop, which leads to numerous problems with your home's construction materials. Mold, for one, is often widespread, difficult to remove, and can compromise your family's safety.
Properly ventilating your attic space helps it to resist warping, rot, and the many other problems moisture can cause—so making sure it is ventilated is important.
If the builder of your home used sub-par construction materials, or if your home was built years ago when local codes were more lenient, you may need to have those materials replaced. In your attic, you'll need to be sure that your roof decking is thick enough to handle the most it can while being exposed to snow storms that quickly add weight to the roof structure.
Your builder may also have used the minimum requirement for insulation in your attic space. Beyond that, your insulation may have settled, which means it isn't doing its job—and is potentially costing you energy dollars.
Disaster Response Group is your local attic repair company. Our professional services center around storm and damage repair and renovations caused by natural or other disasters. We help residents nationwide to get back to their lives by rebuilding their properties after wind, hail, serious storms, and other destructive forces.
Attic Repairs May Involve Issues That Were Caused From:
Improper Ventilation
Sub-par Materials
Improperly Installed or Insufficient Insulation
Holes in or near the roof